This is an archived article and the information in the article may be outdated. Please look at the time stamp on the story to see when it was last updated.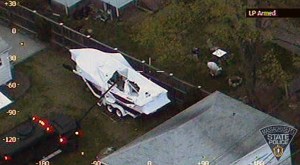 BOSTON, MA —  Two U.S. officials say the 19-year-old Boston bombing suspect was unarmed when he was captured inside a boat in a Watertown backyard last Friday.
Authorities originally said they had exchanged gunfire with Dzhokhar Tsarnaev for more than one hour before they were able to subdue him.
But officials now tell The Associated Press that no gun was found in the boat.