This is an archived article and the information in the article may be outdated. Please look at the time stamp on the story to see when it was last updated.
Police on Tuesday arrested two relatives of a boy who was fatally mauled by pit bull mixes at a home in Colton, authorities said.
Eusulia Zamudio, 42, and Marco Zamudio, 23, were booked on charges of felony child endangerment leading to death, police said. They are the grandmother and uncle of 2-year-old Samuel "Eli" Zamudio, who was mauled to death by as many as five dogs on Monday.
The dogs were euthanized on Tuesday, and their bodies were slated to undergo a necropsy, according to Colton police Detective Raymond Mendez.
Officers responded to a house in the 700 block of West Citrus Avenue at 5:32 p.m., after receiving a 911 call reporting that someone had been killed by a dog, according to a news release from the Colton Police Department.
The officers found a 2-year-old boy suffering from extensive injuries to his upper body. The child was taken to Arrowhead Regional Medical Center, where he succumbed to his injuries, authorities said.
Animal Control was called to the home, where officials took custody of five pit-bull mix dogs, Colton police said.
At the time of the attack, the boy was being babysat by an uncle, who owns the dogs, neighbors said. The child apparently climbed out of a window and into the backyard, where the mauling occurred.
"We were looking for him all over," said family friend Erica Vega, who lives in the home. "We asked the neighbors. We couldn't find him."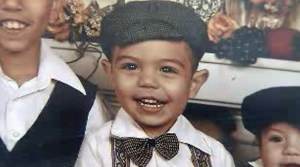 After a search, the boy's grandmother found his lifeless body in the backyards, where the dogs were still around him, Vega said.
Jail for the Zamudios was expected to be set at more than $100,000, Mendez said.
An investigation was ongoing. Anyone with information regarding the attack was asked to call Detective S. McFarland at 909-370-5000.