This is an archived article and the information in the article may be outdated. Please look at the time stamp on the story to see when it was last updated.
A memorial was set up Monday at the site in Santa Ana where a 6-year-old boy was fatally struck by a pickup truck while walking to school, authorities said.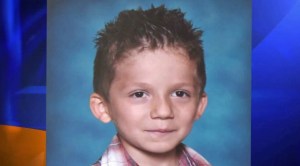 The crash occurred at 7:40 a.m. at the corner of Ramona Drive and Central Avenue, according to Santa Ana police.
The boy was in a crosswalk with his grandmother and 7-year-old sister Mia when he and the older woman were struck, police said.
The boy was later identified as Alan Martinez.
"Baby Alan, always happy, always dancing," his mother Oralia Silva said at the scene, where she was weeping and holding his picture.
Paramedics transported Alan to an area hospital, where he later died.
His grandmother suffered broken bones.  The other child was not injured, according to police.
"She was just hysterical, seeing her grandmother her (brother) just lying there, not moving," said Franco Del Rio, who lives across from the scene of the crash.
A 17-year-old boy was driving the pickup and stopped immediately after the crash, police said. He too was taking a young sibling to school, police said. The younger brother was in shock, crying, Del Rio said.
Speed did not appear to be a factor, according to police. The driver was released and not cited.
"The speed was not all that fast, but he did hit both the grandmother and the 6-year-old," Santa Ana police Cpl. Anthony Bertagna said.
KTLA's Melissa Pamer, Chip Yost and Kimberly Cheng contributed to this report.