This is an archived article and the information in the article may be outdated. Please look at the time stamp on the story to see when it was last updated.
Three Boy Scout leaders who recorded themselves knocking over a rock formation in Utah's Goblin Valley State Park could face felony charges, according to The Salt Lake Tribune.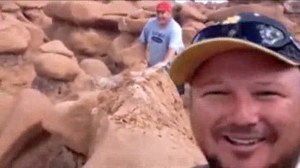 The men said they knocked over one of the formations, known as "goblins," because it was already loose and could hurt someone if it fell, the newspaper reported.
In the video, one of the men was seen using a smaller rock to leverage himself before pushing the formation over.
The trio broke out in laughter and high fives after toppling the large rock.
"We have now modified Goblin Valley," the man recording the video said.
"Some little kid was about ready to walk down here and die, and Glenn saved his life by getting the boulder out of the way," he continued.
The man who pushed the boulder was identified by the Deseret News as Glenn Taylor, of Highland. Dave Hall recorded the video and the third man was identified as Taylor's son, according to the newspaper.
The rock formation dates back to the Jurassic period more than 170 million years ago, Utah State Parks spokesman Eugene Swalberg told the Deseret News.
Swallberg called the video disturbing and said the Emery County Attorney's Office and the Utah Attorney General's Office were looking into possible criminal charges, the newspaper reported.