This is an archived article and the information in the article may be outdated. Please look at the time stamp on the story to see when it was last updated.
A pair of Antelope Valley brothers were charged with murder Friday in a car-to-car shooting that left a 7-year-old Palmdale girl brain-dead.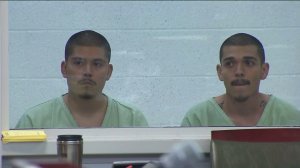 Jesus Alberto Peralta, 22, and Carlos Peralta, 19, appeared in court in Lancaster Friday afternoon on charges that they shot into a car, fatally injuring Desirae Macias, according to the Los Angeles County District Attorney's Office.
Appearing in court in green jail uniforms, the two were told their arraignment was postponed till Sept. 20.
Macias remained on life support midday Friday after being declared brain dead late Thursday night, according to county Department of Coroner Lt. Larry Dietz.
A vigil was held Friday night outside Macias' house.
Macias' aunt had told KTLA she expected the family to remove the girl from life support, which Dietz said was keeping Macias still breathing.
The Peraltas allegedly confronted Macias' mother's boyfriend early Wednesday at a Palmdale gas station, issuing a "gang challenge," according to the DA's office. After a brief confrontation, the boyfriend left the scene with his girlfriend and her two children.
The pair of brothers allegedly followed the foursome in a  car as they drove from the gas station, firing several rounds into the family's vehicle, the DA's office said.
Macias was shot in the head, authorities said. The District Attorney's Office identified her by a different name – Desiree Ybarra – than the one provided by coroner's officials.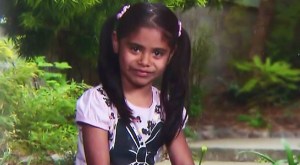 The Peralta brothers each face one count of willful, deliberate and premeditated murder and of shooting at an occupied motor vehicle. They also each face three counts of attempted murder. Allegations related to gang affiliation and gun use are also part of the case.
Bail for each brother was set at $8 million.
If convicted on all counts, the Peraltas each face up 185 years to life in prison, according to the DA's office.
A third man had been taken into custody in the shooting, but prosecutors declined to file charges against him due to insufficient evidence, according to a spokeswoman for the DA's office.
The Los Angeles County Sheriff's Department was still investigating Friday.