This is an archived article and the information in the article may be outdated. Please look at the time stamp on the story to see when it was last updated.
A brush fire was threatening structures as it burned in the mountains above Azusa on Monday evening, according to the Los Angeles County Fire Department.
At 7:30 p.m. voluntary evacuation orders were issued for three homes on Foxtail Court in the Mountain Cove neighborhood.
Twenty-five other homes are under structure protection, according to county fire officials.
The blaze was sending a column of smoke towering above the San Gabriel Valley, photos posted to Twitter showed.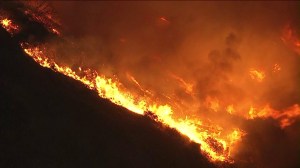 The fire was burning east toward the Azusa border with Glendora in the San Gabriel Mountains, the city of Duarte tweeted. The area is surrounded by the Angeles National Forest.
County firefighters received the call at 5:52 p.m., according to county fire Inspector Ed Pickett. The fire was reported near the intersection of Azusa and Sierra Madre avenues (map), he said.
Dubbed the Madre Fire, the incident had grown to 190 acres as of 10:50 p.m.
The Madre Fire was being driven by fuel — the dry brush and chaparral of early fall — and the mountainous topography, the county fire spokesman tweeted.
Structures were threatened, Pickett said, but it was unknown how many. Aerial video showed the blaze burning near homes off San Gabriel Canyon Road, also known as State Highway 39.
The highway was closed north of Foothill Boulevard except for emergency vehicles.
There are also a number of road closures in effect in the Duarte area because of the fire, according to the Temple City Sheriff's Station.
Huntington Drive is closed at Encanto Parkway.  All residential streets that intersect with Encanto Parkway north of Huntington Drive into Fish Canyon have also been closed.
In addition, Encanto Park has been closed and is being used as a staging area for water dropping helicopters.
https://www.facebook.com/photo.php?fbid=10151863682844614&set=a.440942949613.222741.72391084613&type=1&theater