This is an archived article and the information in the article may be outdated. Please look at the time stamp on the story to see when it was last updated.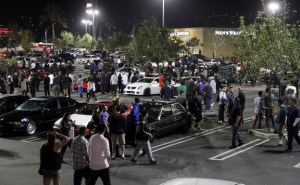 BURBANK, Calif.  — Police in Burbank were beefing up their presence at the Empire Center on Tuesday in anticipation of a car enthusiast "flash mob."
A similar event organized over social media last year attracted hundreds of people and their custom cars to the parking lot, and police expect more of the same this time around.
"We are aware of it," Burbank Police Sgt. Darin Ryburn told the Burbank Leader. "We have the resources available to address any traffic or criminal issues that arise."
During the last event in November, traffic around the Empire Center was snarled by the turnout, and it took police until nearly midnight to disperse the crowd, which at one point was estimated at 1,000 people.
Click here to read the full story at LATimes.com.