This is an archived article and the information in the article may be outdated. Please look at the time stamp on the story to see when it was last updated.
BEVERLY HILLS, Calif. (KTLA) – Burglars targeted and ransacked a vacant Beverly Hills home that was covered by a fumigation tent, authorities said Thursday.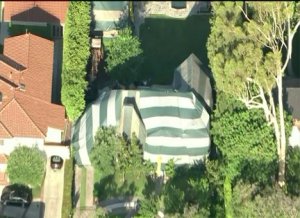 A Beverly Hills patrol officer noticed a slit in the tent covering a home in the 6oo block of North Palm Drive.
The officer investigated and discovered the vacant house had been burglarized and ransacked, officials said.
"This is a common tactic that burglars will use because they know that no one is inside," Beverly Hills Police Sgt. Max Subin said.
A hazardous materials team was sent to investigate and found no one inside the home.