This is an archived article and the information in the article may be outdated. Please look at the time stamp on the story to see when it was last updated.
EAST LOS ANGELES (KTLA) — Sheriff's deputies surrounded a home in East Los Angeles Friday where a shirtless suspect camped out on the roof more than four hours.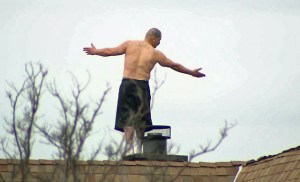 It happened in the 5300 block of Grace Place, between Goodrich Blvd. and Hillview Ave.
At around 7 a.m., some bail bondsmen went to the home to take the man into custody for violation of his bond agreement.
He was out on bail on a burglary charge and is also an ex-con, according to Capt. Mike Parker, of the L.A. County Sheriff's Department.
The man climbed into the attic of the residence to avoid being taken into custody, at which time the bondsmen contacted the East L.A. Sheriff's Station.
A gun was located in the residence, another violation of his bail, Parker said.
The suspect climbed from the attic to the roof of the house, wearing only baggy shorts and socks.
He has not threatened to harm himself, Parker said. The suspect has apparently been expressing his anger at the bail bondsmen, the courts and the deputies.
Crisis negotiators were at the scene communicating with the man. Negotiators were also speaking with his family members.
Deputies offered him blankets and food, but he declined them, despite the weather and his lack of clothing.
The man finally climbed down from the roof around 11:30 a.m. using a ladder provided by deputies.