This is an archived article and the information in the article may be outdated. Please look at the time stamp on the story to see when it was last updated.
Two days after a multi-vehicle crash killed 10 people — including five high school students — in Northern California, the conditions of some surviving victims improved as an investigation into the incident continued, officials said.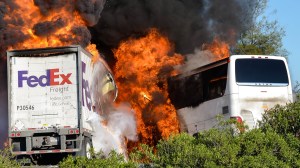 Of the 11 injured who had been admitted to Enloe Medical Center in Chico, about 25 miles east of the crash site, all but two have been released, hospital officials said Saturday.
The two victims who remained hospitalized were in fair condition after initially being listed in serious condition. Their names were not immediately released.
Meanwhile, the California Highway Patrol, National Transportation Safety Board and other agencies were working to determine the cause of the collision.
Steve Kuzj reports for the KTLA 5 Morning News on April 12, 2014.