This is an archived article and the information in the article may be outdated. Please look at the time stamp on the story to see when it was last updated.
LOS ANGELES (KTLA) — A bill that would impose a tax on sugary drinks in California is in front of lawmakers in Sacramento this week.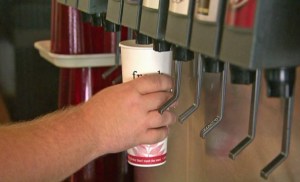 The state law would tax sugary drinks such as sodas, energy drinks and sweet teas one cent per fluid ounce.
That means that, if you bought a 12-ounce can of soda, you would pay 12 cents more.
The measure passed a first hurdle on Wednesday, clearing a tax committee.
A recent field poll found that 68 percent of California voters said they would be in favor of a soda tax, if the money paid for school nutrition and physical education programs.
Proponents of the legislation say something must be done to curb alarming rates of obesity and preventable diabetes.
"If you raise the price to be equivalent to healthful drinks, you'll reduce consumption, similar to a tobacco tax," says Sen. Bill Monning (D-Carmel), the bill's sponsor.
But opponents of the bill argue that the government shouldn't be trying to tax people into making healthy decisions.
They also point out that the restaurant industry is already facing a lot of other cost increases.
A soda tax proposal in the Northern California community of Richmond was defeated overwhelmingly about three months ago.