This is an archived article and the information in the article may be outdated. Please look at the time stamp on the story to see when it was last updated.
Through promises to fight in court, California lawmakers hit back at the Trump Administration after it filed a lawsuit against the state claiming three of its "sanctuary state" laws protecting undocumented immigrants obstruct the federal government's ability to enforce immigration policy.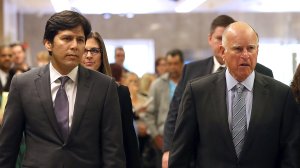 United States Attorney General Jeff Sessions will visit Sacramento Wednesday, in the wake of the filing of the lawsuit which claims deportations, arrests and other activities by agencies like U.S. Immigration Customs and Enforcement are limited by three California laws — including one that makes it a crime for employers to voluntarily allow immigration agents into private labor areas without a judicial warrant or from viewing the employment records of undocumented workers.
The backlash from leading Democratic lawmakers in the state has been swift and united.
Gov. Jerry Brown tweeted Sessions' visit will only "further divide and polarize America" while Lt. Gov. Gavin Newsom said the state won't be "bullied" by the Trump Administration.
The lawsuit comes on the heels of a mass immigration sweep in recent weeks in which more than 150 people were arrested over a three-day span across Northern California, the Los Angeles Times reported.
At a time of unprecedented political turmoil, Jeff Sessions has come to California to further divide and polarize America. Jeff, these political stunts may be the norm in Washington, but they don't work here. SAD!!!

— Jerry Brown (@JerryBrownGov) March 7, 2018
"California thrives because of its diversity, not in spite of it," Newsom said in a statement, applauding SB 54, which stops local law enforcement from giving information about undocumented immigrants being released from detention to ICE and other immigration agencies.
That policy, along with another that limits how employers can work with immigration agents and a third that creates a program for the state's attorney general to inspect immigration detention centers and federal efforts, were all criticized in the lawsuit as below the authority of the federal government.
But, as Newsom said, the state plans to challenge the Department of Justice and other federal agencies' crackdown efforts.
"California won't be bullied by Donald Trump and Jeff Sessions, and we won't back down from defending law abiding residents," Newsom said in a statement.
Meanwhile, California Senate Leader Kevin de León gave an even more impassioned response, describing the suit's challenges to state laws as a "racist and xenophobic attack" that will tear apart families.
Bottom line: California will NOT help President Trump, Jeff Sessions or Thomas Homan rip children from the arms of their mothers and fathers. Here in CA, we embrace our historic diversity, and we will do everything in our legal power to protect it.

— Kevin de Leόn (@kdeleon) March 7, 2018
Los Angeles Mayor Eric Garcetti tweeted a fiery response, too, saying the state won't break its binds with immigrants who live there.
Standing with immigrants is fundamental to who we are as Angelenos, Californians, and Americans — and nothing the Attorney General says tomorrow can break our will to keep families together, and our communities whole.

— Mayor Eric Garcetti (@MayorOfLA) March 7, 2018
Meanwhile, the suit states existing federal laws give the executive branch "authority to inspect, investigate, arrest, detain, and remove aliens who are suspected of being, or found to be, unlawfully in the United States."
"The United States has undoubted, preeminent authority to regulate immigration matters," the suit states.
John Cox, a Republican candidate for the state's governor, expressed support for Sessions' trip to California and the immigration policies he's pushing forward.
"As Governor, I promise you that on my first day in office I will act to repeal Jerry Brown and Gavin Newsom's Sanctuary State, and restore the rule of law," he said in a statement.
Still, opposition from the state's top leaders has been defiant as many say California will uphold laws it has in place — and fight any legal challenges to them.
No matter what happens in Washington, #California will stay the course and enforce all our laws and protect all our people. That's how we keep our communities safe. #Immigration

— Xavier Becerra (@AGBecerra) March 7, 2018
CA was built on the backs of immigrants, and I refuse to turn my back on them. I proudly stand w/ our immigrant community & against AG Sessions' politically motivated lawsuit. CA will not tolerate this admin's attacks on our communities. https://t.co/xVocUt3leL

— John Chiang (@JohnChiangCA) March 7, 2018