This is an archived article and the information in the article may be outdated. Please look at the time stamp on the story to see when it was last updated.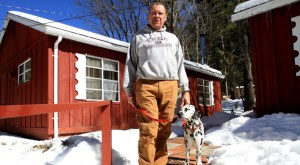 A camp ranger who was carjacked by fugitive former LAPD Officer Christopher Dorner and who called 911 plans to sue Los Angeles to collect the entire $1-million reward offered for the now-deceased ex-L.A. police officer, his attorney said Friday.
Attorney Allen L. Thomas said his client, Rick Heltebrake, filed a proper claim to collect the reward offered by Los Angeles Mayor Antonio Villaraigosa and funded by various entities and accused the city of trying to "walk away" from considering that request.
Earlier this month, the Los Angeles Police Department announced that three retired judges will determine who gets the reward. Claimants will have until April 19 to request their portion of the money.
The reward — a collection of smaller donations from numerous agencies, groups and individuals — was initially offered for Dorner's "capture and conviction." However, that's "irrelevant," according to new reward guidelines, because Dorner, a former LAPD officer who killed four, was chased into a cabin near Big Bear, where he eventually shot himself.
Two claims have been made on the reward since Dorner's death Feb. 12 after a shootout with police – Heltebrake and a couple near Big Bear who were tied up and whose car was stolen by Dorner.
Heltebrake's attorney said the new process to determine who received the reward money ignornes California law and city ordinances pertaining to rewards. Thomas, in a statement released to the press, said the new process denies his client due process since it requires Heltebrake to agree to the tribunal's decision, and waive any right to a jury trial.
Thomas called the reward process a "mockery.''
— Phil Willon, L.A. Times