This is an archived article and the information in the article may be outdated. Please look at the time stamp on the story to see when it was last updated.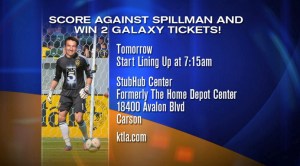 The Home Depot Center is being renamed the StubHub Center. To celebrate, we're sending Eric Spillman to play goalie for the morning.
If you think you can get past Eric Spillman's signature fist shake and score, head down to the StubHub Center tomorrow, June 18.
You can start lining up at 7:15 a.m. The first 50 people who score against Eric will win a pair of tickets to the LA Galaxy game against the Portland Timbers on Wednesday night, June 19, at 7:30 p.m.
Fans can line up beginning at 7:15 a.m. at StubHub Center (formerly The Home Depot Center)
18400 Avalon Blvd., Carson, CA  90746 – Parking is free
The contest will begin during the 8:00 a.m. 50 pairs of tickets will be given away between 8:00-10:00 a.m.
There will also be a drawing at 10:00 a.m. for a free pair of tickets for anyone that does not want to attempt a kick at the goal.