This is an archived article and the information in the article may be outdated. Please look at the time stamp on the story to see when it was last updated.
Crews have restored power to the Westside Pavilion after the West L.A. mall temporarily lost service Sunday night, according to the Los Angeles Department of Water and Power.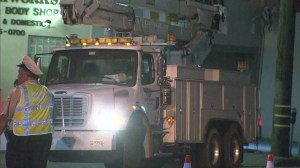 The power outage occurred after a vehicle hit a pole on the 2000 block of South Sepulveda Boulevard (map) shortly after 6:30 p.m., according to LADWP spokeswoman Michelle Vargas.
The outage affected 23 commercial customers in total, Vargas said.
In addition to the Westside Pavilion, a Home Depot and a Ralph's in the area also lost power, according to Vargas.
Crews were working to restore service to the other businesses.
It was not known how long it would take to completely restore power.
The unidentified driver of the vehicle was not injured in the collision, according to the Los Angeles Police Department's West Traffic Division.
KTLA's Tracy Bloom, Doug Kolk and Feven Kiflegiorgis contributed to this report.