This is an archived article and the information in the article may be outdated. Please look at the time stamp on the story to see when it was last updated.
A 24-hour doughnut shop in Long Beach was extensively damaged after a car plowed through the glass and into the store on Sunday morning, leaving one person injured.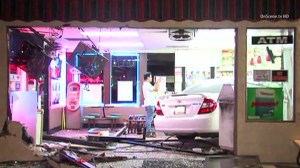 The crash occurred around 3 a.m. in the intersection of Gaviota Avenue and 7th Street (map).
One witness near the store said that he saw the driver get out of the car and leave the scene on foot after the crash.
"I was crossing the street to my apartment building and I heard something go 'boom.'" Lovell Hunter said. "I came outside, walked across the street and a guy ran inside the building, and he got out and ran, and told the owner 'do not call the police.' And then he ran."
One person inside who was standing close to the store's refrigerators at the time received minor injuries, according to Hannah Pheng, who owns the doughnut shop.
"He's bleeding a little bit, but he's fine," Pheng said. "He checked himself into the hospital."
The car was fully inside the store, and video from the scene showed the shop sustained major damages both inside and outside.
Debris littered the store, the video showed. One side of the shop could be scene boarded up with wood several hours after the crash.
It was not immediately clear if the driver was found.
KTLA's Dave Mecham contributed to this report.