This is an archived article and the information in the article may be outdated. Please look at the time stamp on the story to see when it was last updated.
One person was hospitalized Saturday after a car driven by an elderly man slammed into a Trader Joe's store in Woodland Hills, according to a spokeswoman for the Los Angeles Police Department's Valley Traffic Division.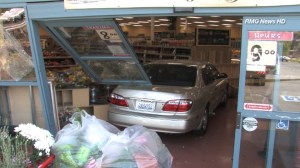 The incident occurred shortly before 1:30 p.m. at 21055 Ventura Boulevard (map). LAPD officers responded to the scene, where they questioned the driver.
The condition of the hospitalized person was not immediately known.
News video showed a four-door Infiniti sedan inside the building after it apparently drove through one of the automatic doors at the front entrance. The car's windshield was smashed on the driver's side.
The vehicle was later driven out of the store, which was closed for several hours after the incident.
No other information was available.