This is an archived article and the information in the article may be outdated. Please look at the time stamp on the story to see when it was last updated.
Two people were killed on the 60 Freeway in Ontario  Monday morning when a car stopped behind a stalled pickup truck was rear-ended.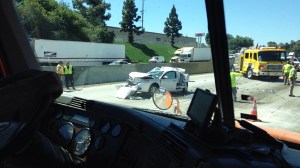 The officer headed to assist the stalled white Ford F150 was delayed when she responded to an unrelated three-car collision nearby, according to Mariano Santiago Jr. of the California Highway Patrol.
No injuries were reported in the crash and the officer continued on to the disabled truck, Santiago said.
When the officer was arriving on scene, another three-car crash was reported, this time involving the stalled truck.
Two passengers in a white Lincoln MKZ were killed when the car was rear-ended after stopping behind the pickup truck. They died at the scene, according to Santiago.
The driver of the Lincoln was airlifted to Arrowhead Regional Medical Center in Rialto in unknown condition.
The driver of the other car, a white Kia Optima, was taken by ambulance to Arrowhead Regional, also in unknown condition.
It was unclear if the driver of the truck was injured in the crash.