This is an archived article and the information in the article may be outdated. Please look at the time stamp on the story to see when it was last updated.
A chance encounter with a television news reporter for an on-air segment in East Oakland has led to a homeless man being reunited with his former bandmate — Carlos Santana.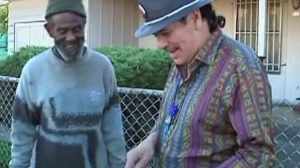 It all started when Marcus Malone was interviewed for KRON4-TV's "People Behaving Badly" segment on illegal dumping and told the reporter he was a former member of Santana's band.
"At one time I was with the Santana band, the original Santana blues band," Malone told KRON4. "Now I'm homeless and on the streets."
Marcus "The Magnificent" apparently lost track of the Hall of Fame guitarist after going to prison in 1969. For his part, Santana told the station he had tried unsuccessfully to track down his former percussionist.
Click here to read more at latimes.com.