This is an archived article and the information in the article may be outdated. Please look at the time stamp on the story to see when it was last updated.
CARSON, Calif. (KTLA) — The city of Carson has declared a local state of emergency after claims by some residents that the soil under their homes is making them sick.
The city council unanimously passed a resolution on Monday night declaring a contamination emergency.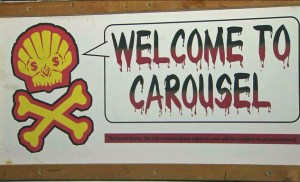 It demands that Shell clean up the Carousel neighborhood of 285 homes, built back in the 1970s on an old oil tank farm.
For decades, Shell stored petroleum in underground tanks there.
Residents said there is cancer-causing benzene and explosive methane underneath their homes.
They claim that the chemicals are making them sick, and are even causing their dogs to develop tumors.
People who live in the the neighborhood have been told not to let their kids play in their backyards or eat fruits and vegetables from their gardens.
For its part, Shell said that the chemicals do not pose a major health risk, and that more testing is needed.
At Monday night's city council meeting, residents got a boost from environmental activist Erin Brokovich.
"It's intolerable, it's inexcusable," Brockovich said, slamming Shell for moving too slowly.
"You are looking at public health and welfare of men, women, children and an entire community that's in peril," she said. "It is a state of emergency."
"This contamination is clearly severe and clearly is doing damage to our city," Mayor Jim Dear said. "We're asking Shell to stop the damage by doing the right thing."