This is an archived article and the information in the article may be outdated. Please look at the time stamp on the story to see when it was last updated.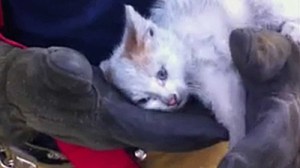 HOLLYWOOD, Calif. (KTLA) — Firefighters came to the rescue after an alert motorist spotted a tiny kitten lost in the middle of busy Olympic Blvd.
Anthony Ewart says he was forced to stop in the intersection to avoid running over the kitten.
He says he motioned for a woman in a Jeep Laredo next to him to stop, as well.
When he tried to pick the kitten up, it ran under the Jeep and then climbed into the undercarriage of the vehicle.
That's when Ewart called in firefighters, who crawled under the SUV and plucked the kitten to safety.
The kitten was later 'adopted' by someone at the firehouse.