This is an archived article and the information in the article may be outdated. Please look at the time stamp on the story to see when it was last updated.
GLENDORA, Calif. (KTLA) – Several students and graduates from a Glendora Catholic high school were calling for the reinstatement Thursday of a teacher who was fired a short time after he married another man.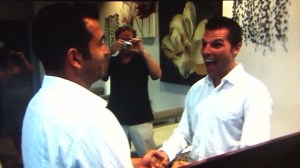 Ken Bencomo, 45, taught for 17 years at St. Lucy's Priory High School, a private school for girls, before he was fired.
"The reason given was that the marriage occurred and the school's position was that it violated church teachings," Bencomo's attorney told the Daily Bulletin.
School officials did not talk to reporters, but a spokesman for the diocese of San Bernardino issued the following statement: "If a teacher or school employee makes a display of behavior that is counter to church teaching, such as homosexuality, sex outside of marriage or having a child outside of marriage, That can impact their employment status."