This is an archived article and the information in the article may be outdated. Please look at the time stamp on the story to see when it was last updated.
Singer-songwriter CeeLo Green was charged Monday with furnishing ecstasy to a female victim but not with raping her, as had been alleged, the Los Angeles County District Attorney's Office announced.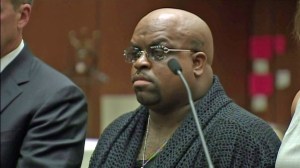 Green, 38, was charged with one felony count of furnishing a controlled substance, specifically MDMA ecstasy, which is also known as "Molly."
Prosecutors declined to file rape charges, citing insufficient evidence.
The 33-year-old woman had alleged Green, whose real name is Thomas DeCarlo Callaway, slipped ecstasy into her drink, and then she woke up naked in his hotel room bed. The singer, also a judge on NBC's "The Voice," had denied allegations against him.
Green was charged only with the drug allegation in the July 2012 incident, the DA's office stated.
In a news release issued Monday evening, the Los Angeles Police Department described the woman's allegations that Green had drugged and sexually assaulted her.
The alleged assault took place at the Luxe Hotel near the Staples Center in downtown L.A. after the woman had had dinner with Green, the police news release stated.
Police investigators filed their case with prosecutors in February, the news release stated.
"It was determined there was insufficient evidence to prove rape of an intoxicated person beyond a reasonable doubt," the LAPD release stated.
The singer's attorney was pleased that no sexual assault charge was filed, his attorney told the Los Angeles Times, describing the relationship between the two as "consensual."
"CeeLo had faith that if true facts were known, the district attorney would reject those charges," attorney Blair Berk told The Times. "As it relates to the one charge of furnishing or sharing ecstasy, Mr. Green will responsibly address that matter in a court of law, but not comment on it further out of respect for the process."
During a Monday afternoon arraignment hearing at the Foltz Criminal Justice Center in downtown Los Angeles where the judge addressed him as "Mr. Callaway," Green pleaded not guilty. He post $30,000 bond.
Green, due in court again Nov. 20, faces up to four years in state prison.