This is an archived article and the information in the article may be outdated. Please look at the time stamp on the story to see when it was last updated.
A cement truck lost control and overturned Friday morning on the exact same street where a veteran officer with the Los Angeles Police Department was killed nearly two months ago after his patrol car collided with an out-of control dump truck.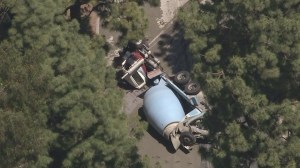 The cement truck overturned shortly after 11 a.m. in the 1100 block of Loma Vista Drive (map), hitting multiple parked vehicles before coming to a stop on its side,  Lt. Hill with the Beverly Hills Police Department said.
Aerial video showed at least three cars were damaged.
A white truck was extensively damaged, with large pieces of debris from the vehicle littered on the street all around it, according to the video.
The unidentified driver of the truck was taken to the hospital in serious condition, according to a news release from the Beverly Hills Police Department.
No other injuries were reported, but video from the scene showed multiple vehicles received extensive damage from the collision.
Loma Vista Drive was closed Friday afternoon from Doheny Road to Wallace Ridge, Beverly Hills police stated. It was expected to reopen by 5 p.m.
The crash, which was under investigation, occurred near the area where 40-year-old LAPD Officer Nicholas Lee was killed in a traffic collision in early March.
A female officer in the car with Nicholas and the driver of the truck were also injured in that crash.
A preliminary report issued in the days following that crash indicated that the truck's brakes may have failed as it was traveling southbound on Loma Vista Drive and the patrol car was traveling northbound.
The Beverly Hills Police Department has stepped up their presence in the area since the fatal March crash and have been issuing citations for various violations, according to the news release.
After Friday's crash, residents expressed concern.
"I hope the city or the authorities do something," nearby resident Tony Viquez said. "We cannot stop the heavy trucks continuing going through this street, but at least do something — do some regulations."
The city was working to develop stricter regulations to control truck traffic on high-risk streets, the release stated.
"This is a critical public safety issue which the Beverly Hills Police Department and other City departments are aggressively working together to avoid future accidents," the release stated.
KTLA's Tony Kurzweil and Chris Wolfe contributed to this article.
Still photos in Chris Wolfe's report were courtesy of Sheldon Slaten.