This is an archived article and the information in the article may be outdated. Please look at the time stamp on the story to see when it was last updated.
A ceremony was held in Upland on Friday for a football player from Corona's Santiago High School who was seriously injured during a game on Nov. 22.
Three football teams took the field at Upland High School to honor Jordan Walker, 16, a linebacker who was hurt while trying to make a tackle during a quarterfinal playoff game last week. He was initially transported to Riverside Community Hospital before being transferred to Loma Linda Medical Center.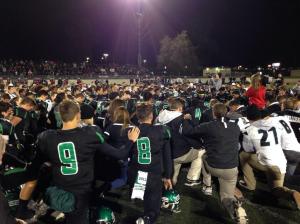 Walker remained in critical condition on Friday with a spinal cord injury that left him paralyzed, his father, Curtis Walker, told KTLA. The teenager was being moved to Kaiser Permanente's Fontana Medical Center as  Friday's ceremony got underway.
Jordan Walker was able to move his head from side to side but was unable to speak due to a breathing tube that was inserted in his throat, his father said, adding that the younger Walker was in good spirits.
Members of the Santiago High football team were invited to attend Friday's game between the Centennial High Huskies and the Upland Highlanders, where the three teams participated in a pre-game prayer on the field.
"It's just not about football at this point," said Tanner Maddoz, one of Jordan Walker's teammates. "It's kind of a community event. It just brought us all together. We all really appreciate the love and support of everyone."
"I think it's awesome," Daniel Nakamura, an Upland High football player, said of the tribute to Walker. "We're all high-schoolers, playing the same sport. Really, at the end of the day, we all love this sport. It's a shame that he had to get injured."
During Friday night's game, members of the Centenial and Upland teams wore Walker's number, 55, on their helmets. Decals of the number were distributed to Santiago players and fans.