This is an archived article and the information in the article may be outdated. Please look at the time stamp on the story to see when it was last updated.
The scope is staggering. Some 75 million Americans are under threat of severe weather on Tuesday.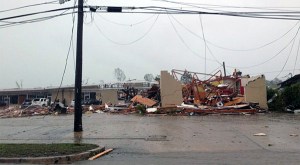 People from the Great Lakes to the Gulf Coast, and from the Midwest to the East Coast, are advised to keep their eyes to the sky and their ears to the radio. That's a third of the country.
The greatest risk will again be in the Deep South, with Mississippi and Alabama in the bull's eye for the worst of the storms.
The first two days of this powerful spring storm system, which is expected to rage into Wednesday, claimed 29 lives in six states.
Residents across the region huddled in hallways and basements on Monday as a string of tornadoes ripped through their states.
Eight people died in Mississippi on Monday, the state emergency management office said. Few additional details were immediately available.
It was a close call for Anthony Bishop and his co-workers as the storm hit the lube shop where they work in Tupelo.
"Right as it ripped the roof off the building … we all jumped in the pit," Bishop told CNN affiliate WMC-TV. "Heard blocks hitting cars above me, glass flying all around the pit where we were."
States of emergency
Two people died in Lincoln County, Tennessee, near the border with Alabama.
And two more were killed at a trailer park west of Athens, Alabama. A third person died in Tuscaloosa after a retaining wall collapsed on him.
Severe weather also rumbled through the Birmingham area late Monday.
"We got report of damages in Kimberly, Morris (and) Bessemer," said Horace Walker a spokesman for Jefferson County Emergency Management. "No reports of injuries, but I expect for that to change because we do have entrapments."
Alabama Gov. Robert Bentley declared a state of emergency for all counties.
Georgia Gov. Nathan Deal did the same as the severe weather advanced.
"At this juncture, we've declared the emergency for the entire state because it's impossible to pinpoint where the weather will hit," Deal said. "Georgia is threatened at least through (Tuesday) and perhaps into Wednesday. We're prepared now and we'll be ready for recovery should we, God forbid, experience tornado damage or flooding."
Mississippi hit hard
Of the eight fatalities in Mississippi, one of them occurred in Richland, said Rankin County Emergency Management Director Bob Wedgeworth.
Mississippi Gov. Phil Bryant said the twisters inflicted "severe damage" around the town of Louisville, about 90 miles northeast of Jackson.
Winston Medical Center, Louisville's major hospital, was among the buildings hit.
"The Winston Medical Center has received damage from a tornado. Walls are down. Some gas leak is occurring," Bryant said.
The storm destroyed Britney Butler's home in Tupelo, WMC-TV reported.
"It hurts to look, because I won't come home tonight," said Butler, who still managed to put on a smile after discovering her dog had come out unscathed. "Oreo means the most to me."
Elsewhere in Tupelo, buildings near a major commercial district on the city's north side were "wiped away," Scott Morris, a reporter for the Northeast Mississippi Daily Journal, told CNN's "The Lead."
Numerous trees and power lines were down, and "quite a few buildings are destroyed up there," Morris said.
As things got ugly, Matt Laubhan, the chief meteorologist at Tupelo television station WTVA, took charge. He ordered station staff to take cover before walking off the set himself.
"Basement. Now … let's go," Laubhan said.
Video: See meteorologist take cover
Act II
Monday's storms were Act II of a powerful weather system that brought punishing thunderstorms to the central United States. Tornadoes spawned by those storms on Sunday killed 14 people in Arkansas and one each in Oklahoma and Iowa, authorities in those states reported.
The hardest-hit area was Faulkner County, Arkansas, where a suspected tornado shattered homes, tossed tractor-trailers and killed 10 people in the towns of Vilonia and Mayflower. Two children were among the dead.
Before the bad weather slammed into Arkansas, witnesses spotted a twister in the northeast Oklahoma town of Quapaw, where one person died, the Ottawa County Sheriff's Office said.
The same line of storms also hit Baxter Springs just a few miles to the north. Sixty to 70 homes and at least 20 businesses were reported destroyed, said Cherokee County emergency manager Jason Allison. A tornado estimated to be three blocks wide rumbled through the town of 4,200, he said.
A sprawling storm front also hit eastern Iowa, killing a woman in the tiny community of Kinross in Keokuk County, the sheriff's department said.
The one bright spot amid Sunday's devastation were the forecasts that predicted the severe weather days ago, storm chaser Brett Adair said.
The advance notice helped save lives, said Adair, whose team witnessed the Faulkner County, Arkansas, storm, then helped victims.
"This definitely was not something to take lightly," he said.
Lingering threat
The deadly weather pattern won't begin to subside until late this week.
On Wednesday, nearly 37 million will still be under threat of severe weather as the front eases to the east. The number drops to about 30 million on Thursday.