This is an archived article and the information in the article may be outdated. Please look at the time stamp on the story to see when it was last updated.
One of two students who were taken into custody in connection with a fight with a Santa Monica High School teacher was an 18-year-old who was set to appear in court on a variety of charges Tuesday, police said Monday.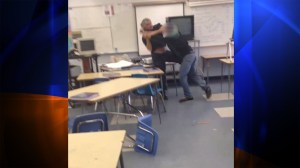 Blair Moore was arrested Friday after a physical altercation with science teacher and wrestling coach Mark Black – in a classroom incident that was caught on cellphone video.
Police were seeking the following charges against the 18-year-old, Santa Monica Police Department Sgt. Jay Moroso said Monday: suspicion of threatening a school official; battery against a school employee; possession of a weapon – a box cutter – on a school campus; and possession of marijuana on school grounds.
Police did not identify Moore, but students on campus did; and an 18-year-old named Blair Moore was arrested under a penal code section related to threatening an employee at an educational institution, Santa Monica police arrest logs show.
Moroso said the suspect was due in Airport Courthouse on Tuesday, and online county inmate records showed an 18-year-old named Blair Roderick Moore who was arrested by Santa Monica police on Friday was set to appear at Airport Courthouse on Tuesday.
Moore was being held on $20,000 bail, inmate records show.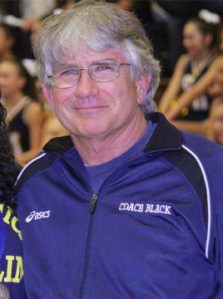 An unidentified 16-year-old was also taken into custody on Friday, Moroso said. Police were seeking a charge of battery of a school employee against that boy, the sergeant said. No court date was set for the minor.
Both teens were male students, Moroso said.
In an email to the school community sent out Friday, the fight was called "deeply disturbing" and "utterly alarming" by Santa Monica-Malibu Unified School District Superintendent Sandra Lyon.
No one was seriously hurt in the incident, she said.
Witnesses told KTLA that the student shown in the video attacked Black after the teacher discovered drugs on the student.
Black was placed on leave pending an independent investigation.
Since the fight, a Facebook page in support of Black had gained more than 11,000 "likes," and a petition on change.org to have him reinstated garnered nearly 5,000 signatures.
"From what I saw, Coach Black quickly restrained an out of control and aggressive student," one commenter wrote on the Facebook page.
Lyon issued a second statement over the weekend that acknowledged anger over her initial email due to its emphasis on the teacher's actions, not the student's.
"I apologize that my comments focuses solely on the message that teachers should not physically engage when disciplining students or intervening without underscoring that we need to obtain all the details leading up to this situation before we reach conclusions," Lyon wrote in the second statement, which was sent out Saturday night.
"I realize that teachers sometimes face situations where they feel they must take action to protect students or themselves, and teachers must be supported with programs, training and services that will allow them to manage potentially dangerous situations," she wrote. "I am going to work with the staff to review our efforts in this area."