This is an archived article and the information in the article may be outdated. Please look at the time stamp on the story to see when it was last updated.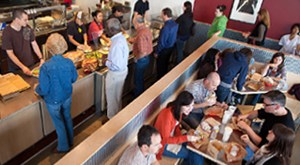 The Mexican food chain, Chipotle, has become the first U.S. restaurant chain to label all ingredients that contain genetically modified organisms (GMOs).
In a statement, Chipotle said it prides itself on its "Food with Integrity," and was committed to serving high-quality ingredients.
Chipotle posted a list on its website identifying which of its ingredients contain GMOs.
Half of the 24 ingredients on the list were labeled with a red "G" indicating the presence of GMOs.
The GMO-containing ingredients included all tortillas and rice, as well as all varieties of meat, except pork carnitas.
Only two other companies, Whole Foods and Ben and Jerry's, label GMO ingredients.