This is an archived article and the information in the article may be outdated. Please look at the time stamp on the story to see when it was last updated.
A high speed pursuit Tuesday of a stolen car that began in Los Alamitos ended with a pitt maneuver in Long Beach.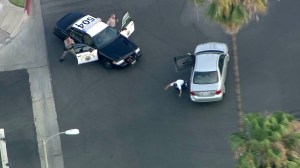 Authorities pursued a silver Toyota Camry on the 405 Freeway through Seal Beach.
The chase finally ended near Claremore and Cerritos avenues (map) east of the 605 Freeway, according to the California Highway Patrol.
The driver quickly exited the car and surrendered without further incident, video of the scene showed.
Video showed the driver didn't even take the time to stop the car, which continued rolling forward until it hit a curb.
No injuries were reported.