This is an archived article and the information in the article may be outdated. Please look at the time stamp on the story to see when it was last updated.
Pasadena Unified School District students who have been chronically absent or have not been in school at all this academic year may get a visit from school officials.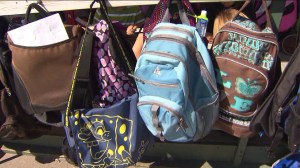 As part of the "I'm In" campaign, volunteers and staff for the PUSD planned to go door-to-door Wednesday to visit students from all grade levels to find out whether they left the district and enrolled at another school or if they have family, social, or economic issues preventing them from attending school.
"Our schools are working at an accelerated pace and a single day of missed instruction can adversely affect the student's academic progress," said PUSD Superintendent Jon R. Gundry. "Immediate action is necessary because research tells us that missing or skipping school occasionally in the early grades can easily become a habit that put students on track to drop out of school."
Counselors and staff were expected to offer on the spot help and support to bring the students back to school to complete their education, according to the district.
In October, the PUSD was expected to begin using a new attendance program that monitors absences and automatically mails letters to parents/guardians when students are truant three times, more than 30 minutes late to school or class, or have excessive excused and unexcused absences, the district announced.