This is an archived article and the information in the article may be outdated. Please look at the time stamp on the story to see when it was last updated.
A 17-year-old senior has died after being wounded in a Dec. 13 shooting at a Denver high school, a Colorado hospital said.
"It is with heavy hears that we share that at 4:29 p.m. this afternoon, Claire Davis passed away, with her family at her side," Littleton Adventist Hospital said in a statement.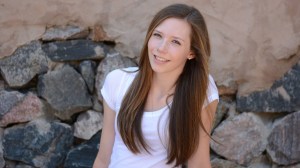 Davis, a student at Araphaoe High School, had been in critical condition after being shot in the head by a classmate.
"Despite the best efforts of our physicians of our physicians and nursing staff, and Claire's fighting spirit, her injuries were too severe and the most advanced medical treatments could not prevent this tragic loss of life," the hospital said.
On Dec. 15, two days after the shooting, Davis's family had said she was "stable, but in a coma."
In a statement Saturday evening, her parents thanked those who tried to save her life, and asked for privacy as they grieved the loss of their daughter.
"Last week was truly a paradox in that we lost our daughter, yet we witnessed the wonderful love that exists in the world through the tremendous outpouring of support we received," the statement said.
The gunman was apparently seeking revenge against a librarian, but killed himself when he could not find the staff member and a school resource officer approached, police said.
Supporters and loved ones of Davis were tweeting to the hashtag #prayforclaire Saturday evening, as they had been doing throughout the week.
[protected-iframe id="0484bc99bff19a1e454ee74049cffc80-41641936-52137988″ info="p+" ]