This is an archived article and the information in the article may be outdated. Please look at the time stamp on the story to see when it was last updated.
Clayton Kershaw has agreed to a seven-year, $215-million contract extension that will make him the highest-paid pitcher in baseball history, according to people familiar to the situation who spoke under the condition of anonymity because the deal isn't expected to be announced until Friday.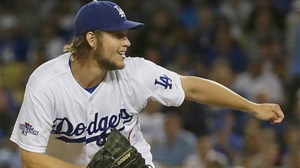 The previous record contract for a pitcher was the seven-year, $180-million deal signed last winter by Justin Verlander of the Detroit Tigers.
Kershaw's new deal includes a clause that would allow the left-hander to void the remainder of the contract after five seasons.
If he hadn't agreed to an extension, the two-time Cy Young Award winner would have been eligible for free agency after the upcoming season. Kershaw, 25, was eligible for salary arbitration this year.
Click here to read the full story on LATimes.com.