This is an archived article and the information in the article may be outdated. Please look at the time stamp on the story to see when it was last updated.
DAMASCUS, Syria — A senior pro-government Sunni Muslim cleric was killed in the Syrian capital Thursday night when an explosion struck the mosque where he had been giving a lecture.
At least 42 people including, Sheik Muhammad Bouti, and his grandson died in the blast.
Another 84 were injured in the explosion at the Iman Mosque in Damascus in what appeared to be a targeted assassination of Sheik Muhammad Bouti.
The state-run news service said a suicide bomber blew himself up while the cleric was giving a religious lesson.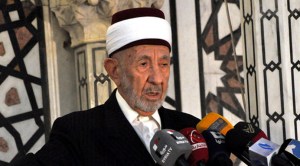 The cleric had been a prominent supporter of President Bashar Assad since the uprising against the Syrian leader began two years ago.
Bouti was imam of the ancient Umayyad Mosque in Damascus.
No group claimed responsibility for the attack.
The Free Syrian Army rebels denied responsibility and said that targeting houses of worship was not part of their strategy.