This is an archived article and the information in the article may be outdated. Please look at the time stamp on the story to see when it was last updated.
Demonstrators planning to denounce Donald Sterling outside Staples Center before the Clippers game Tuesday evening said they would instead focus on supporting the team after the NBA's decision to ban its owner for life.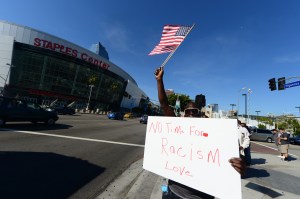 Organizers planned the rally — dubbed "Los Angeles is better than Donald Sterling" — to protest recorded racial attributed to the longtime Clippers owner. But after NBA Commissioner Adam Silver said Tuesday that Sterling would be banned as well as fined $2.5 million and possibly forced to sell the team, organizers of Tuesday's demonstration said the tone of the event had changed.
"We were able to get exactly what we wanted in three days," said Najee Ali, a civil rights activist. "Tonight, it's not a protest, it's victory celebration."
Los Angeles police said they too hoped the decision would have a positive effect on the demonstration, scheduled to take place at the corner of Figueroa Street and Pico Boulevard at 5:30 p.m., two hours before the Clippers face the Golden State Warriors in a playoff game.
Click here to read the full story on LATimes.com.