This is an archived article and the information in the article may be outdated. Please look at the time stamp on the story to see when it was last updated.
A $75,000 reward was offered Thursday as authorities continued their investigation into the deaths of a 1-year-old boy and his mother, whose bodies were found by firefighters responding to a house fire in South Los Angeles in March.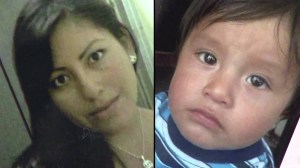 The bodies of Gisella Yauli, 28, and her son, Dillon Reyes, were found after a fire broke out in a converted garage behind a home in the 100 block of East 50th Street (map) on March 5, according to a news release from the Los Angeles Police Department.
The trunk of Yauli's car was found to be slightly open and her keys were still in the ignition, according to friends.
The coroner found that Yauli had tape on her face, and officials said that she had been tied up.
Yauli died at the scene, according to police, while Reyes was taken to a local hospital, but was pronounced dead upon his arrival.
Police announced on March 10 that the deaths were being investigated as homicides.
Family members pleaded Thursday for anyone with information to come forward and put the killer behind bars.
"I couldn't save my family," said Oscar Reyes, the boy's father. "But, who knows, maybe whoever did it may be planning to do the same thing to another family."
Police had yet to determine a motive for the killings.
The $75,000 reward for information leading to the identity, arrest and prosecution of the person or persons responsible was announced at a news conference at the LAPD's Newton Community Police Station.
Anyone with information was urged to contact Newton Division homicide detectives at 323-846-6556.
Those who wish to remain anonymous can call Crime Stoppers at 800-222-8477 (800-222-TIPS).