This is an archived article and the information in the article may be outdated. Please look at the time stamp on the story to see when it was last updated.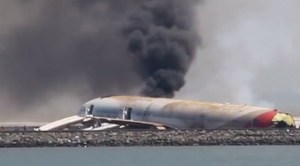 SAN FRANCISCO — The pilot at the helm of Asiana Airlines Flight 214 was training to fly a Boeing 777 and was sitting next to a man in his first trip as an instructor pilot when their plane's main landing gear hit a seawall around San Francisco's airport, a U.S. official said Tuesday.
Deborah Hersman, the head of the National Transportation Safety Board, revealed these and other details during a news conference that included information about the pilots and their flying experience, based on the interviews they've conducted with investigators.
Having finished classroom and simulator training, the "flying pilot" — as Hersman referred to him — was in the piloting portion of his training to fly a Boeing 777 at the time of Saturday's crash.
He had flown 10 legs and had about 35 hours of flying time with the 777, which put him about halfway through the training required by Asiana of 20 legs and 60 flight hours, when the plane went down, Hersman said.
Sitting beside him during Saturday's flight from Seoul to San Francisco was the instructor pilot. The trip across the Pacific was the first time he had been an instructor pilot and the first time he'd traveled with the flying pilot, according to Hersman.
Click here to read the full story on LATimes.com.