This is an archived article and the information in the article may be outdated. Please look at the time stamp on the story to see when it was last updated.
A Colorado third-grader whose freshly shaved head violated her school's dress code will be granted a waiver from the policy because of extraordinary circumstances — the fact that she cut off her hair to empathize with a cancer-stricken friend.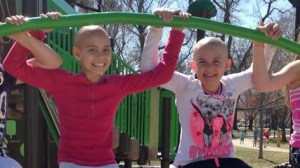 After a closed-door discussion, the board of directors for Caprock Academy in Grand Junction said they voted 3-1 Tuesday night to exempt Kamryn Renfro from the no-shaved-heads rule.
"Compassion and selfless acts of courage are to be commended and encouraged — in children and in adults," the board said in a statement after announcing the decision. "And we apologize that our policies and following our process for exceptions to those policies has, in any way, suggested that supporting anyone's but particularly a child's, brave fight against cancer is anything less than an extraordinary cause worthy of our highest regard."
The case of 9-year-old Kamryn attracted nationwide attention this week after her mother, Jamie, announced on social media that the charter school told her to keep Kamryn away until her hair grew back.