This is an archived article and the information in the article may be outdated. Please look at the time stamp on the story to see when it was last updated.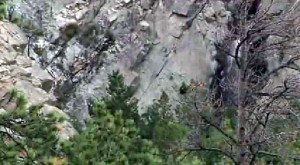 The rescuer didn't see the teen trapped under the rubble at first. But he heard her scream.  Then he saw a hand sticking out of the rocks, Chaffee County Undersheriff John Spezze told reporters Tuesday, and he started digging.
Authorities say Gracie Johnson, 13, was the only survivor of a deadly rockslide Monday that killed five members of her family — including her parents, sister and two cousins who were visiting on vacation.  The horrifying details of their deaths on a popular mountain trail have shaken this close-knit town of about 3,000 people
But no one seems to be surprised by what the teen reportedly told the man who helped pull her from the rubble — that her father saved her life.
"She said her dad jumped on top of her to protect her right at the last moment when the rocks were coming down," Sheriff's Deputy Nick Tolsma — the rescuer who first spotted Gracie's hand sticking out from the rocks — told ABC's "Good Morning America" Tuesday.
Click here to read the full story at CNN.com.