This is an archived article and the information in the article may be outdated. Please look at the time stamp on the story to see when it was last updated.
Police area seeking help identifying a thief who poses as a maintenance worker to steal copper piping from businesses in Orange County.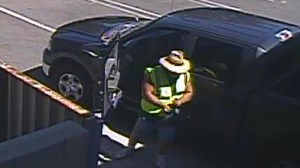 The man was spotted in surveillance video stealing from the roof of a nonprofit legal aid group's Santa Ana headquarters, and he's thought to have committed five other similar crimes in the area, according to a news release from the Santa Ana Police Department.
"This guy did this at 2 o'clock in the afternoon, when the business is open," said Santa Ana police Cpl. Anthony Bertagna. "You can see people coming and going."
Detectives want help identifying the thief, who is described as a white man in his mid-40s to early 50s with a white beard.
In the surveillance footage from the July 13 incident, the man is seen wearing a safety vest and pulling his truck up next to the rear of the building in the 2100 block of North Tustin Avenue. Using his own ladder, the man ascended to the roof, bypassing the building's locked roof access.
Using tools, he removed 140 feet of 1-inch copper pipe, 130 feet of 3/4-inch pipe and various fittings that were connected to eight air-conditioning units, police said.
Similar crimes were committed in Fountain Valley, Cypress and Orange, according to Santa Ana police.
At some locations, the thefts were not immediately detected, police said.
"We believe there are potentially numerous victims out there that don't even know they're victims," said Bertagna, who encouraged businesses to examine their copper piping.

In the Santa Ana case, the thief was driving blue/gray newer model Ford F-150 quad-cab pickup truck with McCoy Mills paper plates, according to police.
A homeless woman was seen taking photos of the thief in surveillance video; police are hoping to speak to her.
Anyone with information on the thief or his vehicle should contact Orange County Crime Stoppers at 855-847-6227 (855-TIP-OCCS).
KTLA's Chip Yost contributed to this report.