This is an archived article and the information in the article may be outdated. Please look at the time stamp on the story to see when it was last updated.
LOS ANGELES — The body of a man found on UCLA's campus was the result of a suicide, according to the Los Angeles County coroner Thursday.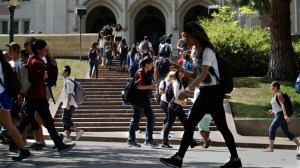 The body was identified as Reynaldo Quitos, 47, an assistant in the school's Southern Regional Library Facility, coroner officials said. The body was found Tuesday afternoon across campus, outside of Boelter Hall.
It appears the man either fell or jumped from the building, which has many engineering classrooms.
The cause of death was "multiple traumatic injuries," authorities said, and coroner officials have closed the case as a suicide.
Click here to read the full story on LATimes.com