This is an archived article and the information in the article may be outdated. Please look at the time stamp on the story to see when it was last updated.
Two fire engines crashed into each other and then one of them barreled into a business in Monterey Park on Wednesday afternoon, leaving 15 people injured, including six firefighters.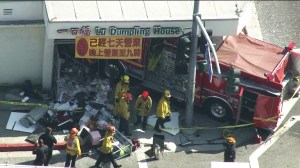 The incident occurred at Emerson and Garfield avenues (map) at about 3:15 p.m., according to Lt. Carrie Mazelin of the Monterey Park Police Department.
Aerial video showed multiple people transported on gurneys by paramedics, and fire officials at the scene confirmed all firefighters on the two trucks were hospitalized.
Officials with the Monterey Park Fire Department, which was handling the response alongside the California Highway Patrol, said a total of 15 people were hospitalized.
The department confirmed three of its firefighters were injured in the collision. The other engine was from the Alhambra Fire Department, which also confirmed three of its firefighters were hurt.
Nine patients from the crash were admitted to Los Angeles County-USC Medical Center, according to Rosa Saca, a spokeswoman for the hospital. Five firefighters and four civilians were admitted, with one of the civilians in critical condition, Saca said.
A spokesman for Garfield Medical Center in Monterey Park said six patients, none of them critical, were taken there. Hospital spokesman Eric Jiang would not immediately say if the sixth injured firefighter was one of the patients.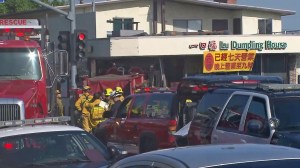 One truck appeared to have crashed into Lu Dumpling House, aerial video showed. The crash was in a busy, commercial area of the San Gabriel Valley city.
It was not clear if the civilians injured were in the restaurant, walking or at a nearby bus stop when they were hurt.
The two trucks were traveling with lights and sirens on toward a structure fire in the southern part of Monterey Park when they crashed, according to Monterey Park Fire Department Chief Jim Birrell.
A truck from the Monterey Park Fire Department had been going east on Emerson Avenue when it hit the Alhambra truck and then slammed into the dumpling restaurant, according to Officer Doris Peniche of the California Highway Patrol.
The Alhambra truck had been going south on Garfield Avenue, she said. The two trucks were dispatched out of a center in Glendale, authorities on scene said.
"The protocol for a fire apparatus responding … with red lights and siren … is to enter an intersection at a safe speed, to make sure the intersection is safe to proceed, and continue through that intersection," Birrell said.
The cause of the crash was under investigation, and the intersection remained shut down several hours after the collision.
KTLA's Kimberly Cheng, Feven Kiflegiorgis and Melissa Pamer contributed to this article.
Correction: An earlier version of this story erroneously reported five firefighters were injured. A total of six firefighters were hurt. The story has been updated to reflect the change.