This is an archived article and the information in the article may be outdated. Please look at the time stamp on the story to see when it was last updated.
A crash involving two big rigs Tuesday left one man dead and a SigAlert issued for the 5 Freeway, according to CHP.
The crash occurred around 6:50 a.m. at the northbound 5 Freeway, south of the 138 Freeway in Gorman, an unincorporated community in northwestern Los Angeles near Santa Clarita, according to the California Highway Patrol Traffic Incident Information Page.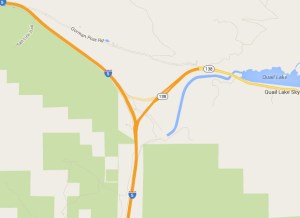 A big rig carrying aeronautical fuel hit the back of another big rig, carrying about 70,000 pounds of tomatoes, from behind for unknown reasons, CHP Newhall area office Public Information Officer John Lutz said.
The driver carrying aeronautical fuel died at the scene, Lutz said.
The second driver was taken to a local hospital and may have sustained moderate injuries.
The California Highway Patrol issued a SigAlert around 8:20 a.m. stating the three and four lanes on the northbound 5 Freeway south of the 138 Freeway were closed "until further notice" due to a "collision investigation."
Around 11:20 a.m. the SigAlert expanded to include lane two, Kelly Gonzalez with Newhall CHP said. 
More than 55 gallons diesel fuel was spilled on the freeway.
Correction: An earlier version of this post incorrectly reported that the big rigs collided Monday. The crash occurred on Tuesday. This story has been updated to reflect the change.
^SIGALERT UPDATE (NEWHALL): NB I-5 SOUTH OF SR-138 – #3,4 LANES CLOSED UNTIL FURTHER NOTICE DUE TO A COLLISION INVESTIGATION – REF LOG 565

— CHP PIO – LA County (@CHPsouthern) March 25, 2014