This is an archived article and the information in the article may be outdated. Please look at the time stamp on the story to see when it was last updated.
HOLLYWOOD, Calif. (KTLA) — Traffic was backed up on the 101 Freeway in Hollywood early Friday after a two-car accident that closed the southbound lanes.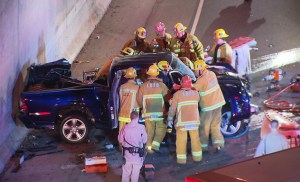 The accident happened around 2:40 a.m at Hollywood Boulevard.
Four people were injured in the crash.
Two people were in critical condition, one was in serious condition and the other refused to be taken to a hosptial.
The California Highway Patrol reopened all the lanes just before 4 a.m. The cause of the crash is now under investigation.