This is an archived article and the information in the article may be outdated. Please look at the time stamp on the story to see when it was last updated.
All lanes of a closed section of the 15 Freeway in Hesperia reopened Tuesday, a day after a fire destroyed an overpass that had been under construction.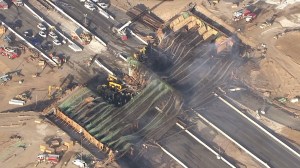 Northbound reopened at about 5:15 p.m. while the southbound lanes were opened just before midnight.
The goal was to have southbound lanes open for morning commuter traffic on Wednesday, according to Ray Wolfe of San Bernardino Associated Governments, the agency overseeing construction of the overpass that burned, then collapsed.
As the morning commute got underway Tuesday, firefighters continued dousing the smoldering bridge that crossed the interstate just north of the Cajon Pass (map).
Meanwhile, construction crews were working to gradually demolish the overpass after it was deemed a total loss.
"We have to dismantle the bridge a chunk at a time and extinguish the fire as we go," said Division Chief Britt Sipe of the San Bernardino County Fire Department. "Crews are working as quickly as they can, but obviously there's a great safety risk involved in this operation, with all the heavy timbers and iron beams."
Crews had removed the northbound portion of the bridge and were working to clean-up and repair the freeway below so that lanes could reopen by afternoon, Caltrans stated.
Drivers were advised to avoid the area or use State Route 18 and State Route 138 as alternate routes.
Northbound traffic was being diverted off of the 15 Freeway at Ranchero Road, while the southbound side was shut down at Joshua Street/Highway 395.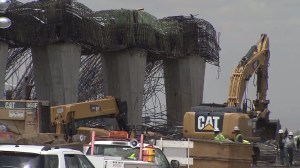 A construction worker was using a blowtorch to cut rebar about 1:30 p.m. Monday when sparks ignited the wooden falsework that was supporting the structure, Caltrans said. An investigation was ongoing.
Before the fire broke out, the $59-million Ranchero Road interchange development was about six months away from completion, according to San Bernardino Associated Governments.
The project had been expected to significantly alleviate area traffic congestion.
The fire and resulting bridge collapse caused hourslong traffic delays on Monday in the Cajon Pass area. Backups were less bad on Tuesday.
KTLA's Melissa Pamer and Sara Welch contributed to this article.