This is an archived article and the information in the article may be outdated. Please look at the time stamp on the story to see when it was last updated.
GROVELAND, Calif. — On Day 10 of the Rim fire — even as the blaze scorched its way deeper into the northern end of Yosemite National Park — firefighters got their first small break Monday against massive forces of nature.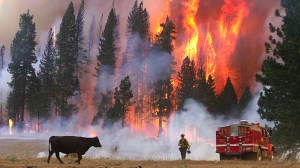 As the fire reached higher elevations, climbing out of steep ravines, crews could take their stand on more level ground. Huge air tankers could finally drop retardant on accessible ridges.
The fire has charred a swath of nearly 161,000 acres — including about 21,000 acres inside the park. It has destroyed at least 23 structures, and threatens two groves of giant sequoias and historical structures in the famed park. But about 25 miles away, the tourist magnet of Yosemite Valley remained safe, surrounded by its famed granite walls.
The fire is burning hotter and faster than any in modern Sierra Nevada history, firefighters say. Officials say it is the California wildfire they have warned about for years, as modern firefighting techniques have snuffed out forest fires, allowing fuel to build up on the mountain floor.
Click here to read the full story on LATimes.com.