This is an archived article and the information in the article may be outdated. Please look at the time stamp on the story to see when it was last updated.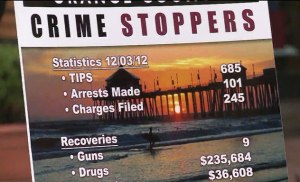 IRVINE, Calif. (KTLA) — Hundreds of tips and dozens of arrests are being credited to the new Crime Stoppers program in Orange County.
OC authorities celebrated their accomplishments during the first year of operation and talked about what the future holds for the program in Irvine Monday.
"It's remarkable to see the stats, and to see the community, media and law enforcement all come together for this," said Crime Stoppers founder Patricia Wenskunas.
The Orange County Crime Stoppers program was created to help resolve, reduce and prevent crime by enabling citizens to safely report criminal activity to law enforcement through anonymous crime tips.
OC Crime Stoppers works in partnership with the community, the media and law enforcement to facilitate the sharing of valuable tips that will hopefully reverse cold cases and other unresolved crimes.