This is an archived article and the information in the article may be outdated. Please look at the time stamp on the story to see when it was last updated.
Two men made it to the Los Angeles area Thursday after walking cross-country from Wisconsin to raise money and awareness for a non-profit that supports veterans.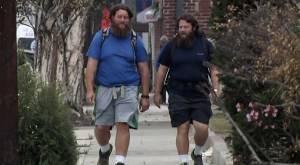 Tom Voss and Anthony Anderson — both Iraq War veterans who were diagnosed with PTSD– began their Veterans Trek last August in Milwaukee, according to a news release from Dryhootch, a non-profit based in Milwaukee, where the men are from.
The goal of the 2,700-mile walk was to raise $100,000 for the organization, the release stated.
Anderson and Voss said they were also hoping that the trek would help increase awareness of veterans issues such as post traumatic stress disorder, veteran suicide and substance abuse.
"I know what we're doing for the walk sounds ambitious. But, we hope it gets the attention of people who otherwise might not listen," Anderson said, according to the release. "A veteran commits suicide every 65 minutes. I hope that when people hear we're doing this, they'll get involved and learn about issues like veteran suicide and how these problems are influencing our veteran families and all of our communities."
"This walk will bring awareness to the many issues facing current and past veterans today. We hope to honor those struggling, hurting, or who have lost their battle with PTSD and taken their own lives," Voss said in the release.
Voss told KTLA that the trek also personally helped him.
"It's helped me analyze the things that I've been through," he said. "I lost my platoon sergeant, he was killed in action. I took RPG shrapnel to the head while I was over there."
The pair documented their five-month journey through social media. Photos from their Facebook page showed that the two men walked through extreme weather and battled severe blisters as they made their way out west.
"The preparation that we had for the walk doesn't prepare you for 20 miles a day, day in and day out," Anderson told KTLA.
Anderson and Voss were expected to complete their trek at the Santa Monica Pier on Saturday at 3 p.m.
KTLA's Courtney Friel contributed to this report.