This is an archived article and the information in the article may be outdated. Please look at the time stamp on the story to see when it was last updated.
LONG BEACH, Calif. (KTLA) — Police in Long Beach are looking for a bicyclist who they say brazenly gropes women and girls as he rides by them on the street.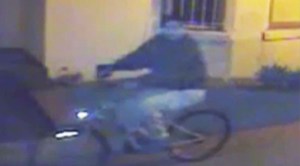 The most recent attack was reported March 25 at Fourth Street and Atlantic Avenue.
The victim of the attack has yet to come forward, but a witness provided information to police.
Authorities have released surveillance video of the suspect in hopes the victim will come forward, or the public can help identify the suspect.
He is wanted in 21 sexual assaults since September of last year, and authorities believe there may be many more assaults that have not been reported.
Back in December, police released surveillance video to the media and the suspect went silent for a few months, but the attacks picked up again in February.
Police say the suspect rides up behind his victims, grabs them, and then rides off.
Long Beach Police Sergeant Aaron Eaton said the suspect is "somebody who definitely needs to get off the street."
Eaton says the victims range from elderly women to a girl that was only 12-years-old.
"If he's willing to do that kind of crime it's something we take very, very seriously," Eaton added.
Anyone who recognizes the person in the video is asked to contact Det. Louis Galvan at (562) 570-6407.
Anonymous tips may be submitted by calling (800) 222-TIPS or texting TIPLA followed by your tip to CRIMES (274637).