This is an archived article and the information in the article may be outdated. Please look at the time stamp on the story to see when it was last updated.
A month after a 21-year-old woman accepted a plea deal for charges related to her fatally striking a cyclist while driving drunk, she was sentenced Tuesday to fewer than four years in prison at a hearing that the victim's fellow cyclists said was bittersweet.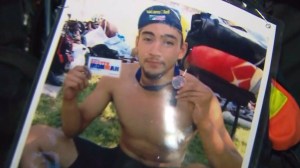 The prosecution of Wendy Villegas, who struck a group of bike riders on the Cesar Chavez Avenue bridge in Boyle Heights on Sept. 14, 2013, has drawn intense interest in the Los Angeles cycling community.
Villegas hit 22-year-old Luis "Andy" Garcia, dragging him several hundred feet until he was hit by another vehicle.
Villegas never stopped, according to prosecutors. Two other cyclists were also injured in the collision.
She entered a no contest plea on March 20 and sentenced Tuesday to three years, eight months in state prison.
At an emotional court hearing that was packed with Garcia's supporters, victim impact statements were delivered, including one from Akira Pena, Garcia's girlfriend. Sobbing, she told Villegas that the driver had robbed the couple of their future together.
"That was the love of my life. That was my soul mate … You took that away from us," Pena said. "We were going to get married, we were going to have kids."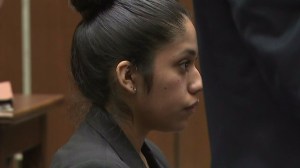 Villegas was charged with vehicular manslaughter while intoxicated, driving under the influence causing injury and leaving the scene of an accident, according to the the Los Angeles County District Attorney's Office.
Cyclists were urged to attend the downtown Los Angeles sentencing hearing en masse in a call for justice for Garcia.
A group of riders planned to leave a park in Montebello at 6:45 a.m. and to ride to the downtown criminal courts building, according to an invitation posted to Facebook.
They wore matching black T-shirts that said "Andy, Ride in Paradise," photos posted to Instagram from outside the courtroom showed.
Garcia's mother joined them after the hearing, where Villegas showed no physical signs of emotion. The defendant declined when Los Angeles Superior Court Judge Shelly Torrealba gave her an opportunity to speak.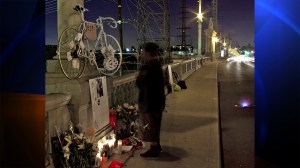 "I'm sick. My stomach is still turning," said Garcia's mother, Carmen Tellez. "I'm appalled that she only received three years, eight months, which she'll only serve half of."
Villegas' sentence is not sufficient punishment for her crimes, according to some bike activists who are calling for increased prison time for hit-and-run drivers.
"We are going to lobby and we are going to change … the laws," Garcia's friend Mario Lopez said. "If not for us, for anyone here immediately, for our grandchildren. We need justice. We need to feel safe out there."
Along with the unsolved collision that nearly killed cyclist Damian Kevitt near Griffith Park last year, Garcia's death has become a rallying cry for those seeking to call attention to hit-and-run crashes in Los Angeles.
A multi-course fundraising bike event called Finish the Ride was scheduled for Griffith Park on Sunday in honor of Kevitt, who now has a prosthetic leg, and in support of the Los Angeles County Bicycle Coalition.
KTLA's Sara Welch contributed to this article.