This is an archived article and the information in the article may be outdated. Please look at the time stamp on the story to see when it was last updated.
CYPRESS PARK, Calif. (KTLA) —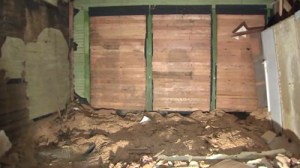 Safety inspectors say a two-story apartment building in Cypress Park is unstable and unsafe to live in.
Authorities were initially called to the building at 590 West Avenue 28th around 7:15 p.m. Sunday night after getting reports of a gas leak.
When firefighters got there, they noticed that parts of the structure had already given way. They fear that the building could collapse.
Six residents, three men and three women, were evacuated from the building.